I've always been slightly fascinated by mourning jewellery – a long standing fan of Jet, but that's not what I'm talking about.  Back in Victorian times mourning became very fashionable, the purpose being to display the loss of a loved one, to act as a memento and to demonstrate the status (and presumably financial position?) of the wearer.
A popular type of mourning jewellery incorporated the hair of the absent or deceased person, it's durable, relatively easy to display and stands the test of time.
We tend to think of this as pretty gory now, but it's definitely a jewellery style that's not forgotten, partly because of the durability of the product.
There are lots of examples around, but my absolute favourite has to be this fabulous Georgian Mourning pin currently being offered for sale by Bliss on Ruby Lane (with an all round wonderful collection so do check her store out):
I also love this amazingly detailed watch fob from Berts Bounty on Etsy: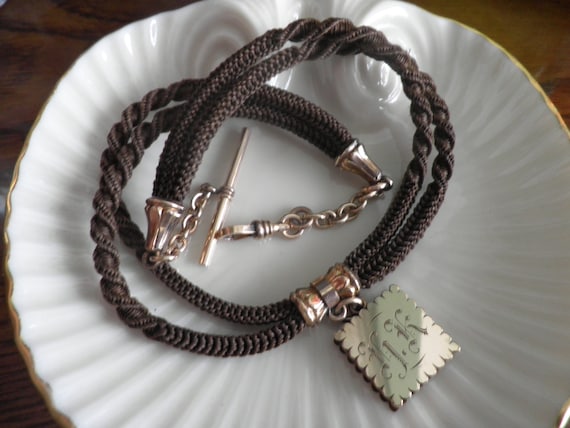 However there are many many fabulous and original pieces out there just dying for a revival, another favourite is this amazing piece.  You may also like to check out this Pinterest Board if you're really keen!
More importantly this is not simply the province of antique jewellery collectors, as this Stylist article shows there are more and more designers pushing at the potential of organic material in jewellery.  Daniela Cardillo has always pushed the boundaries with her use of material but this innovative reinterpretation of traditional hair weaving techniques really brings this into the 21st Century.
Daniela Cardillo is not alone, we love the extension of mourning jewellery into modern jewellery and particularly the memories captured by jewellery created by From The Tail, we've put a couple of our favourites below and we'll be featuring From The Tail Jewellery in February's "Through the Loupe" feature.